** Leaving this up another day, because I'd really like a bunch of the 60 or so of you who will stop by today to leave a comment .... I really would value your input on this topic ...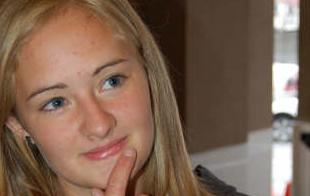 So
Bre Boyce
(see pic) and I went out on Friday afternoon last week for coffee and had a great talk.
Covered everything from
24-7 Mission Teams
(she was on a team based out of the
London City Boiler Room
this summer, but the team was unexpectedly cancelled so she is a bit bummed), her forthcoming trip to the UK to visit friends, working at Costco, how to build deep community with people, school in Calgary this fall, and working from rest ...
Yes, I typed that correctly:
Working from Rest
.
I know that you usually hear the phrase, "
Resting from Work
". However, after hearing some teaching on the subject by a guy named
Mike Breen
this spring in Toronto (at the
Unite in Worship
conference) I am rethinking the order and changing the order.
Mike
highlighted
the Creation Story in Genesis and shared that God created humanity and then rested following that (something I think we would all agree with).
But then he pointed out that humanity was created and the first thing they did was rest. Before any work had been done. This was what would become the sabbath - the day of rest.
So back to the converstation I had with Bre ... and the question,
"What if we have it all wrong and should be working out of our day of rest which is planned and strategic to renew and refresh us and seen as the first day of the week rather than the last (something we are working toward)?"
What if we treated the sabbath rest as the first day ... the beginning ... the place we work from? How would that change things? What if we planned our rest and then worked around it and out of it?